In the ever-evolving landscape of cryptocurrency trading, a handful of platforms have risen to prominence for their reliability, security, and comprehensive offerings. One such exchange that stands out is Kraken. With its distinctive name and a reputation for excellence, Kraken has become a cornerstone for crypto enthusiasts and traders alike. In this blog post, we will dive deep into the world of Kraken, exploring its history, features, security measures, and its role in shaping the cryptocurrency industry.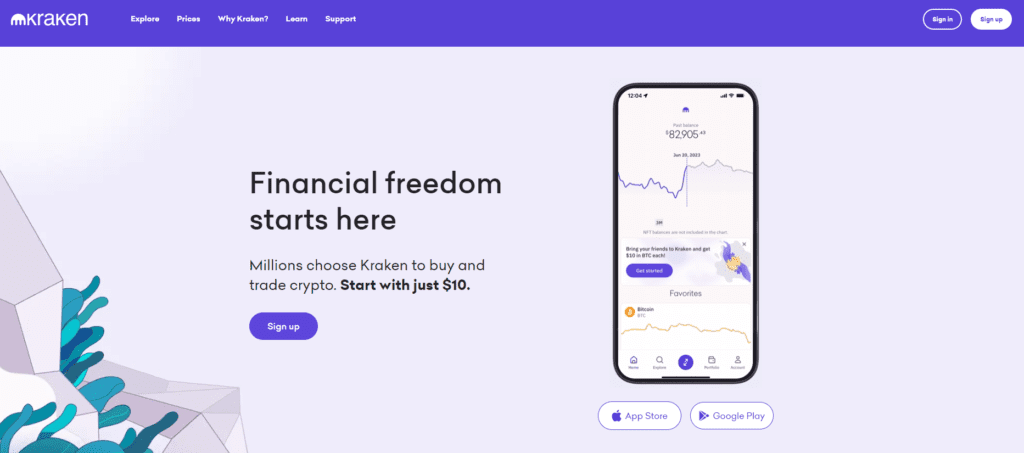 ALSO READ: What Is Coinbase And How To Use It
A Brief History
Kraken, founded in 2011 by Jesse Powell, has its roots in the heart of Silicon Valley. Powell, recognizing the potential of cryptocurrencies, set out to create a platform that would provide a secure, efficient, and user-friendly environment for traders. Over the years, Kraken has not only survived but thrived, cementing its position as one of the oldest and most reputable cryptocurrency exchanges in the world.
Trading Pairs and Offerings
One of Kraken's standout features is its extensive range of trading pairs. From the popular Bitcoin and Ethereum to lesser-known altcoins, Kraken caters to traders with a diverse set of preferences. This broad selection enables traders to create diversified portfolios and explore various investment opportunities.
Kraken's user-friendly interface makes trading accessible to both beginners and experienced traders. The platform offers spot trading as well as margin trading, allowing users to leverage their positions. Additionally, Kraken provides futures trading, enabling traders to speculate on the future price of cryptocurrencies.
Security Measures
Security is paramount in the world of cryptocurrency, and Kraken has consistently prioritized this aspect. The exchange employs a multi-layered security approach to safeguard user funds and data. This includes cold storage for the majority of funds, two-factor authentication (2FA) for account access, and regular security audits.
Kraken's commitment to security was demonstrated by its response to the 2014 Mt. Gox hack, during which the exchange played a crucial role in assisting affected users and investigating the incident. This incident solidified Kraken's reputation as a trustworthy exchange in the eyes of the community.
Regulatory Compliance
Kraken's commitment to legitimacy is further evident in its efforts to adhere to regulatory standards. The exchange has cooperated with regulatory authorities and implemented anti-money laundering (AML) and know-your-customer (KYC) procedures to prevent illicit activities on its platform. This proactive approach not only ensures the safety of the platform but also contributes to the broader acceptance of cryptocurrencies.
Innovation and Expansion
Beyond its core trading services, Kraken has ventured into various innovations. In 2019, the exchange introduced its Futures platform, allowing users to trade cryptocurrency contracts with leverage. Kraken's acquisition of Crypto Facilities, a London-based futures trading platform, further bolstered its presence in the derivatives market.
Kraken has also expanded its offerings to include cryptocurrency staking. Users can earn rewards by staking select cryptocurrencies on the platform, contributing to the network's security and efficiency.
Conclusion
As the cryptocurrency landscape continues to evolve, Kraken remains a stalwart presence, consistently delivering secure and innovative trading solutions. Its commitment to user safety, diverse trading pairs, and regulatory compliance positions it as a key player in the crypto exchange arena. With a history rooted in resilience and a focus on the future, Kraken is likely to continue shaping the trajectory of cryptocurrency trading for years to come. Whether you're a seasoned trader or a curious newcomer, Kraken offers a deep sea of opportunities to explore in the realm of cryptocurrencies.