Even tho Coinbase is one of the old website on the block. I do still think this could be helpful for some people. There is still people using Coinbase that doesn't know everything about it. There is also new people coming into crypto everyday which most likely could use this kind of Information.
The post will include an affiliate link. However like i do with every place i can, i will give my readers as much as i can of benefits from it. You will gain $10 in Bitcoin when you for the first time buy or sell for $100 or more.
What Is Coinbase?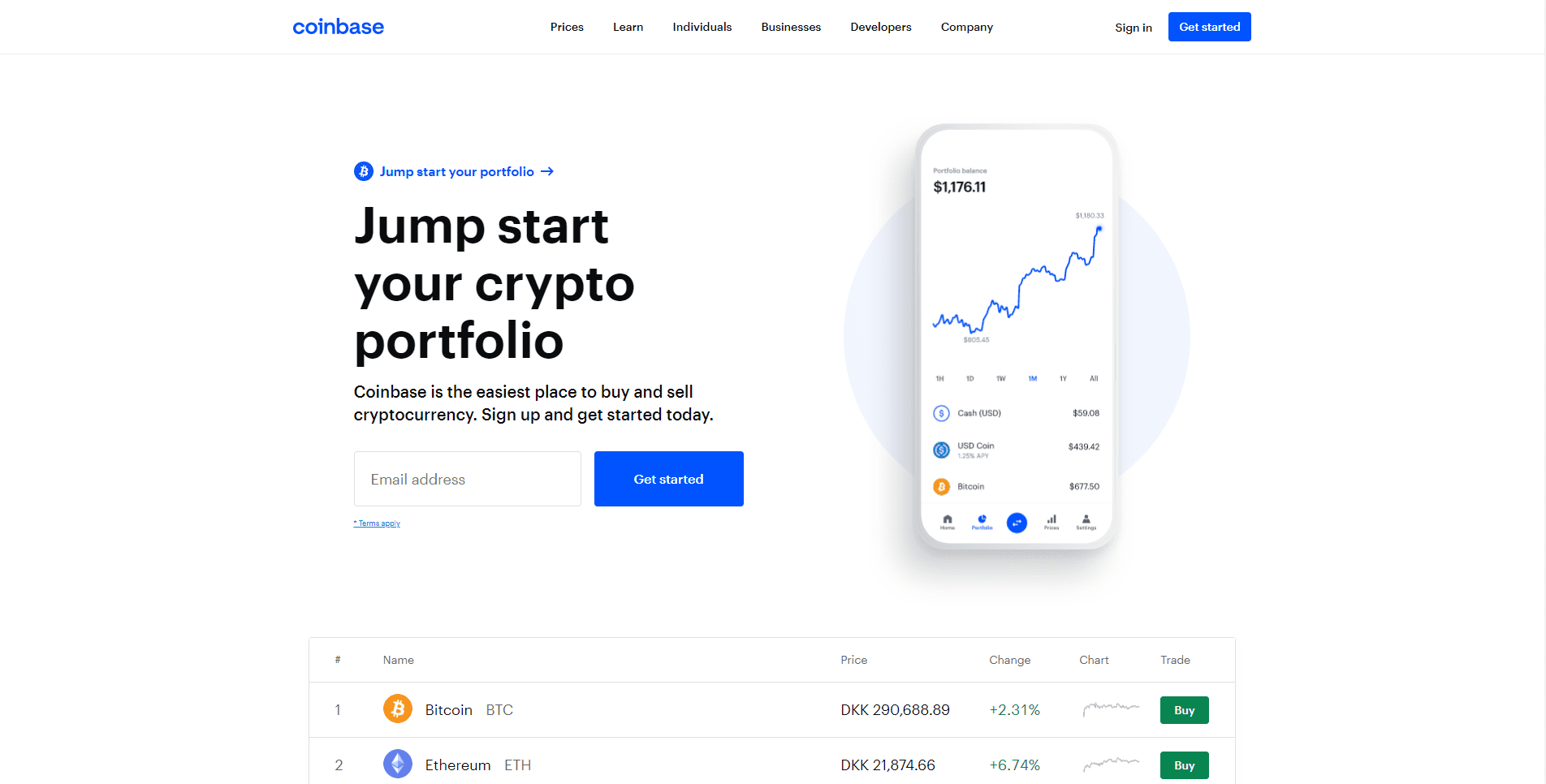 Coinbase is one of the oldest exchange and OTC crypto wallet out there dating back to 2012. However since the start Coinbase have added a ton of new products. I will however explain section by section in this post and what other products Coinbase has.
You are required to do a full KYC to use Coinbase
Coinbase do support both company and individuals with different products.
For individuals you can use Buy/sell, Coinbase Earn, wallet and Coinbase card.
For Businesses you can use Prime, Custody, Asset Hub and Commerce.
Coinbase comes with 68+ million users and works in 100+ countries.
Other Coinbase Products
Coinbase Cloud
Connect
Commerce
Pro
Bison Trails
WalletLink
Rosetta
USDC
To get a better understanding of these products i will recommend you to go to the footer menu and check out the pages for these products who will go into detail.
ALSO READ: How To Payout Crypto To Fiat (Bank)
Portfolio And Wallet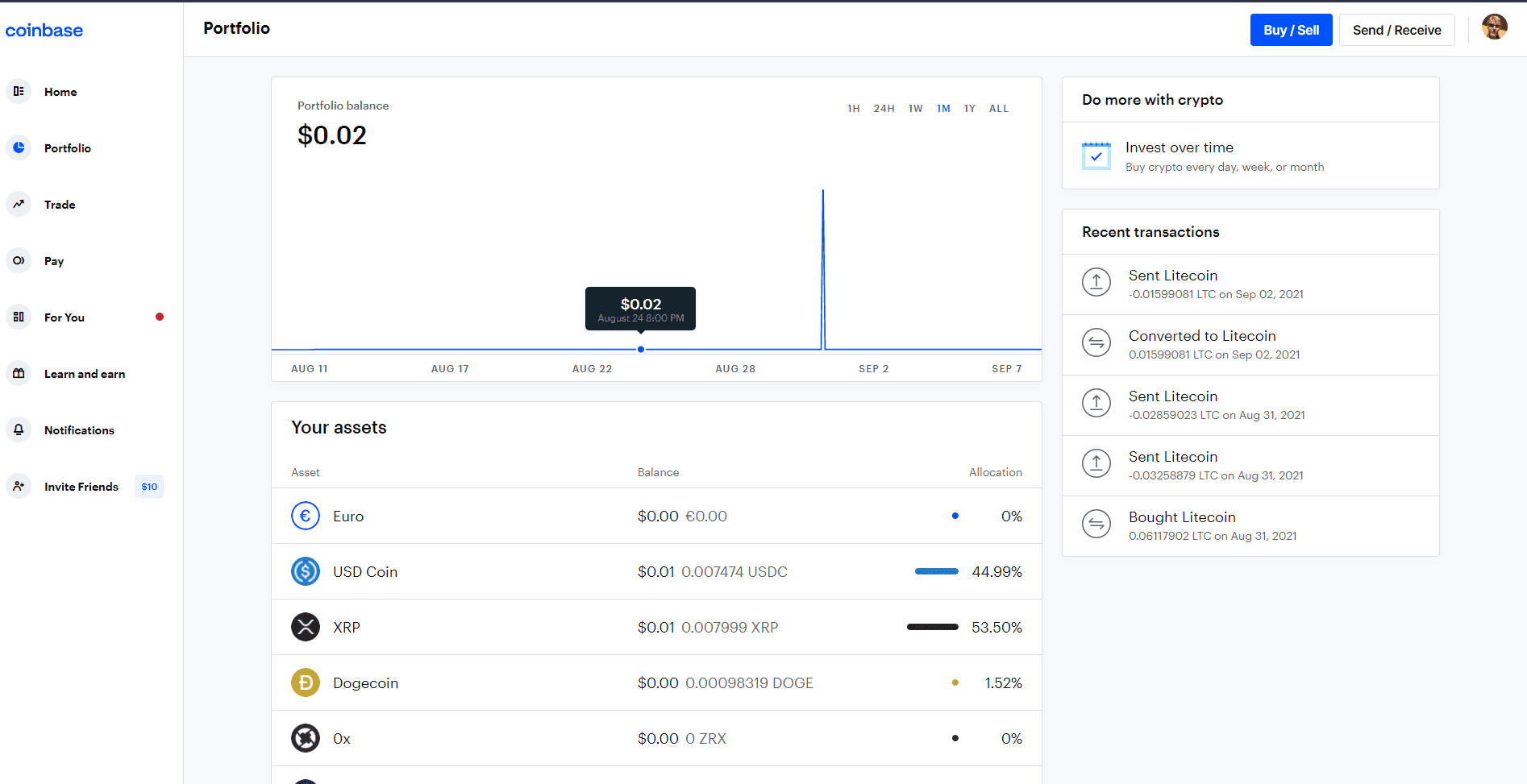 The portfolio section on Coinbase is basicly just your wallets. Here you can see the full list of coins and tokens supported by Coinbase. However here you can only see your wallets, balances and by clicking on a coin gete to the page where you can send and receive.
So if you want to find your wallet for a coin just click on it and look to your right as shown in below image.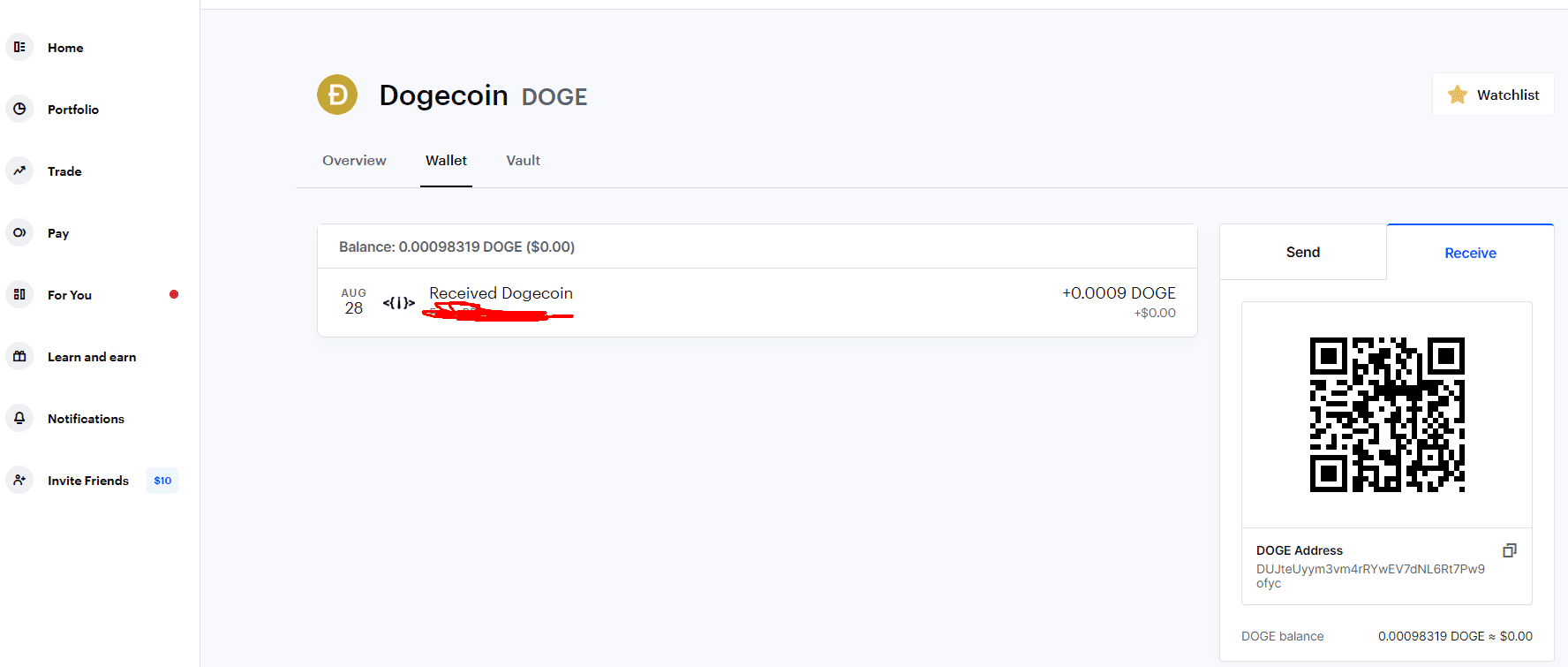 There is no deposit fee, but the fee of sending out can changeg depending on the day and blockchain. The fee will always be the mosts fitting fee to send you transactions at a good speed.
Buy And Sell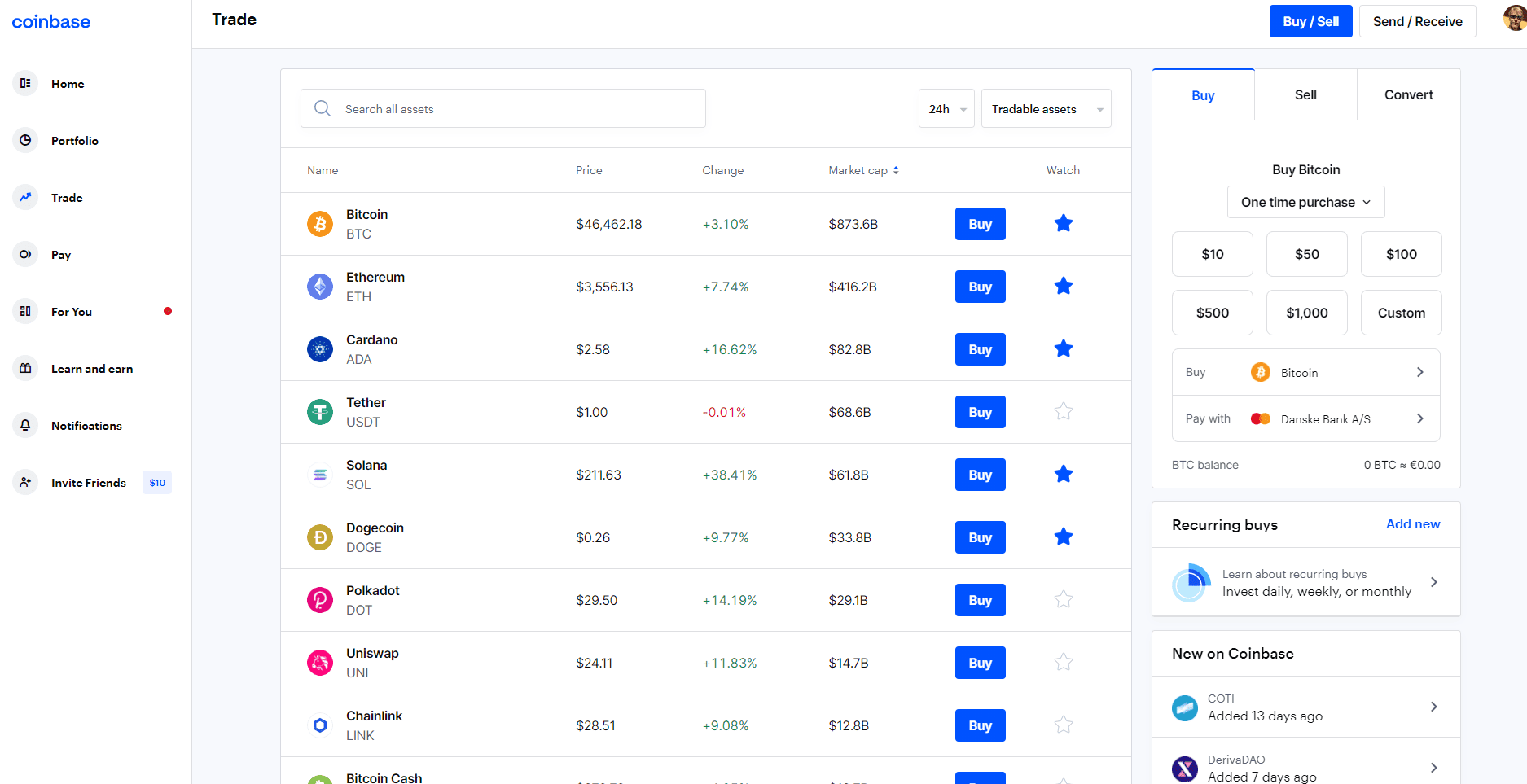 Here you will again find a full list of all supported coins by Coinbase. Just find the coin in the list and click buy and pay with your card or fiat wallet you have filled using bank transfer or from crypto sold earlier. You can also use the widget on the right side.
You can choose between buying once, daily, 1st and 15th every month or just once a month. This function let you automaticly invest into the same coin again and again without having to do much.
Then you have the sell tab where you can sell any crypto you have into your Coinbase fiat wallet. From there you can transfer to your local bank account or linked paypal. However be aware depending on where Coinbase send from and where you are located there will be different fee's on Bank transfers. For paypal there will be other fee's depending on Coinbase and your location.
ALSO READ: How To Setup Any Network with Metamask
Pay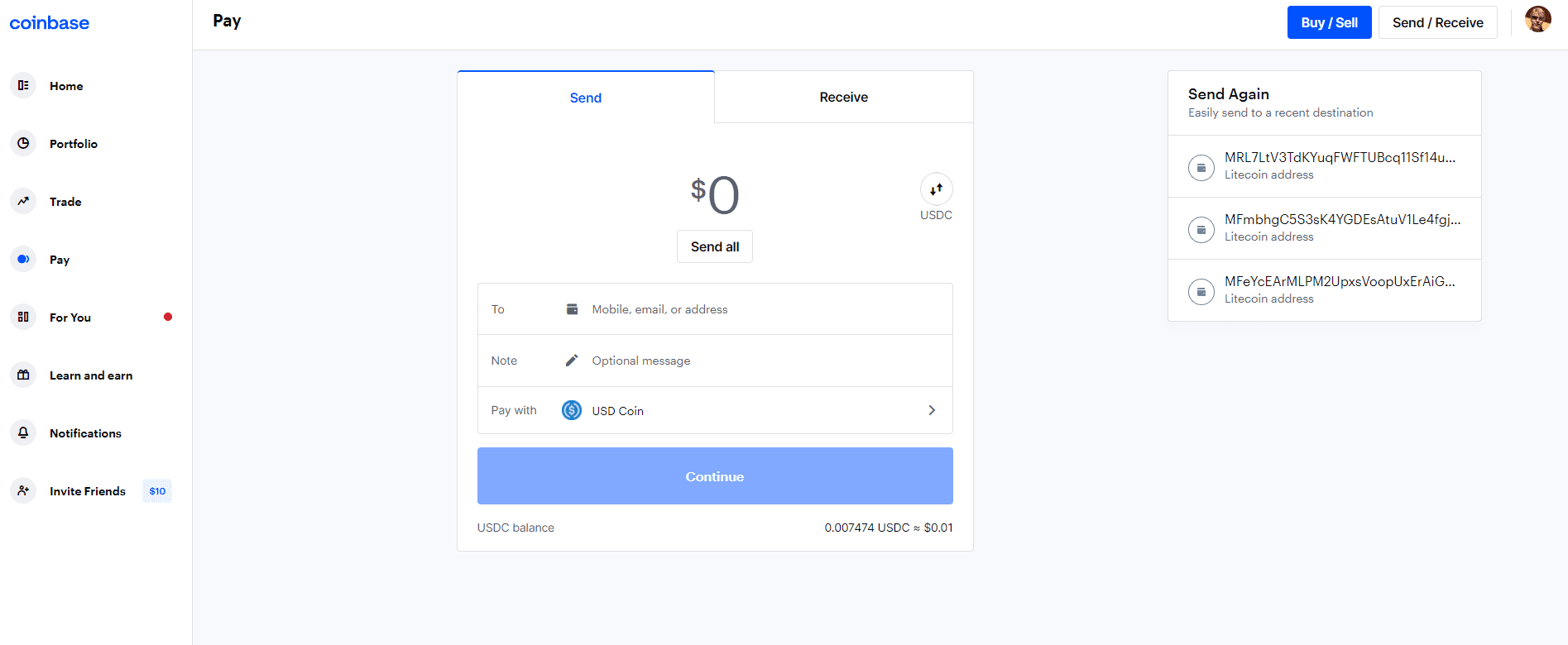 There isn't really much to the pay section. Here you can just send crypto out as well receive crypto from other people, however think its just easier to go to your wallets and search the coin and click it. There at least will have your wallet right away.
For You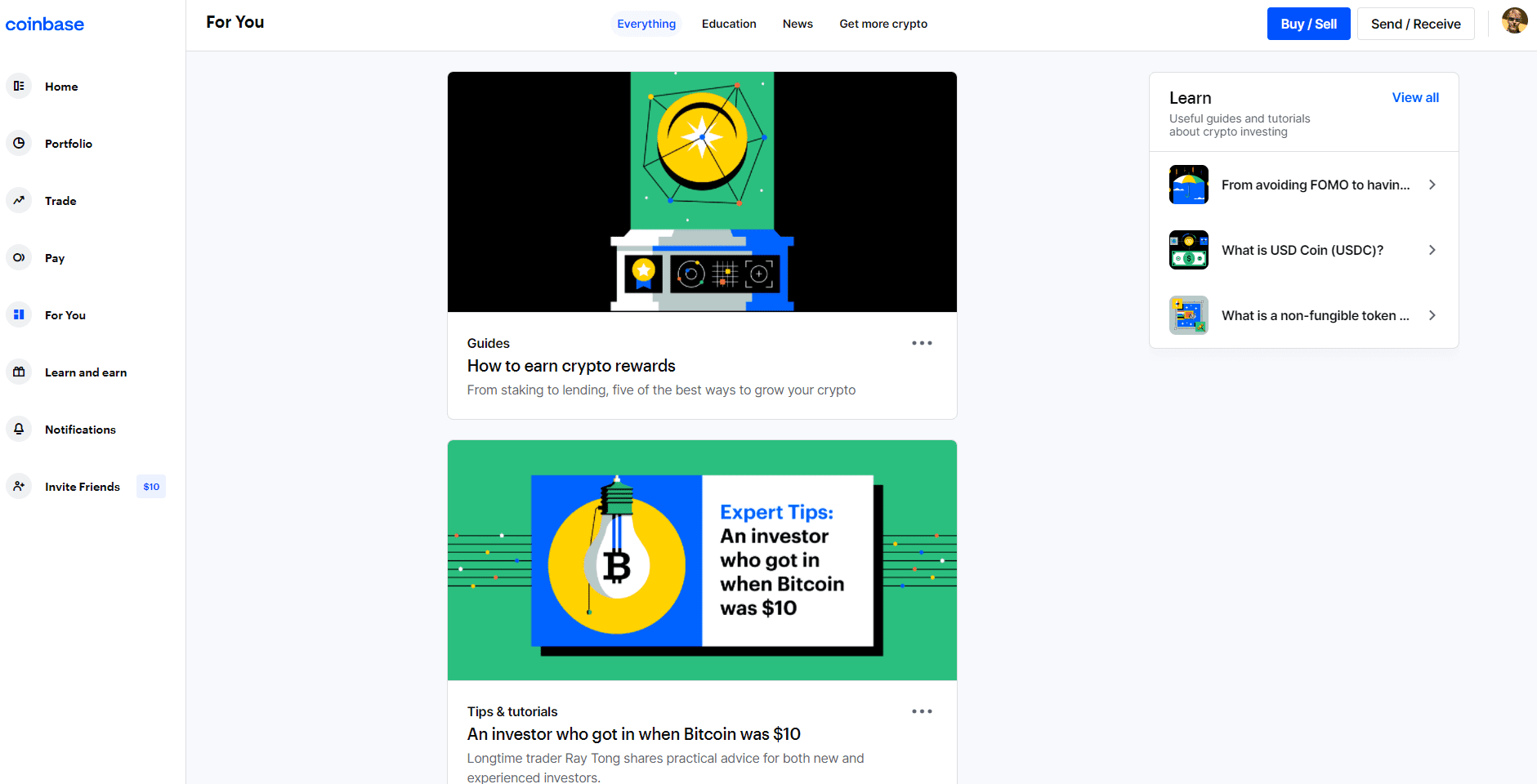 The for you section is where coinbase will give you news and educational posts that they think you would like. Take a look at this section now and then, maybe you find something interesting that could help your investments.
Learn And Earn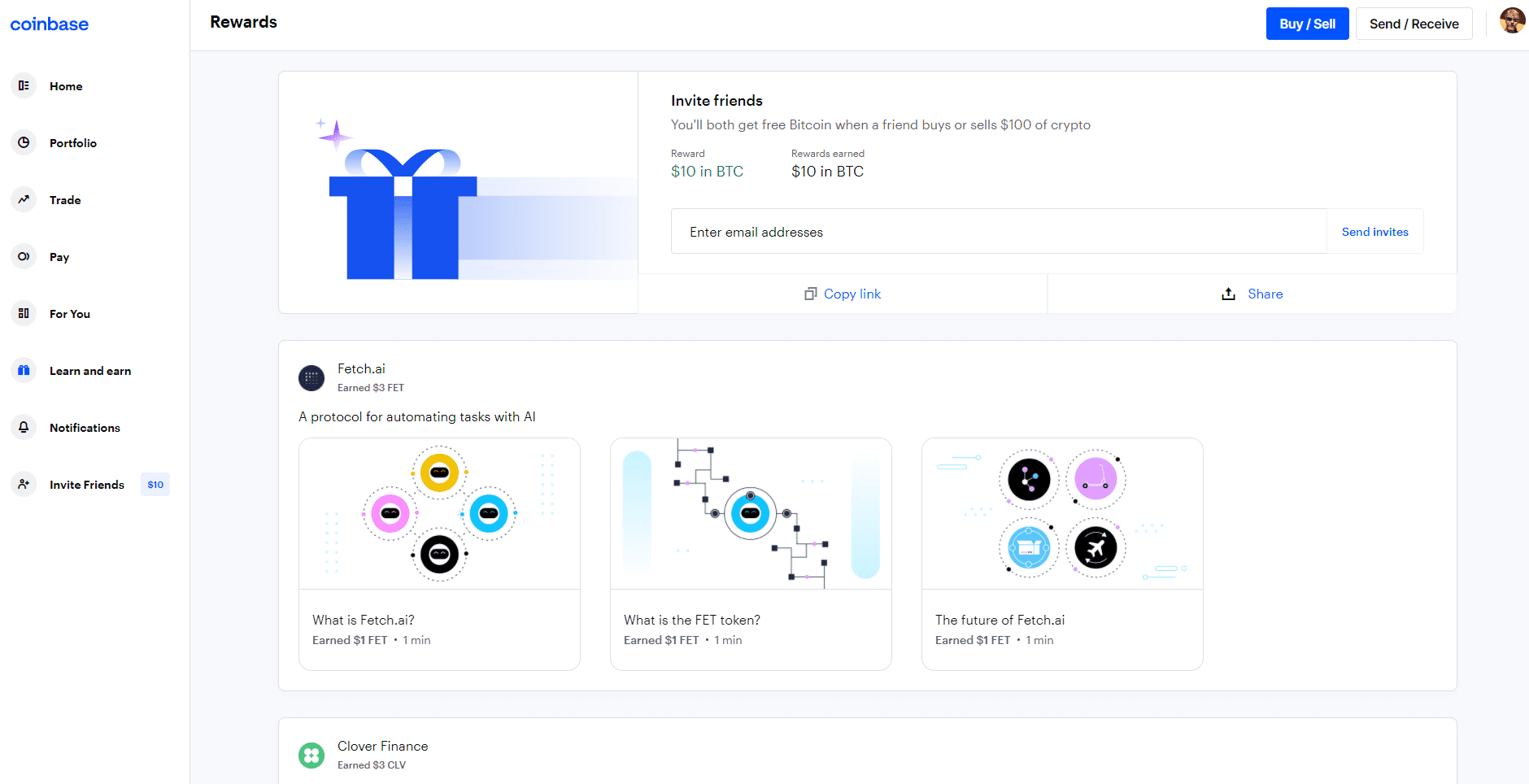 The learn and earn section is what used to be called Coinbase Earn when it started. Here you can find programs where you can learn about different cryptos on Coinbase and get paid a small amount for each right answer. This is a good way to learn about projects you never heard about.
Also here you can find your affiliate link you can give to your friends and earn $10 as well give them $10 when they buy or sell their first $100.
Coinbase Card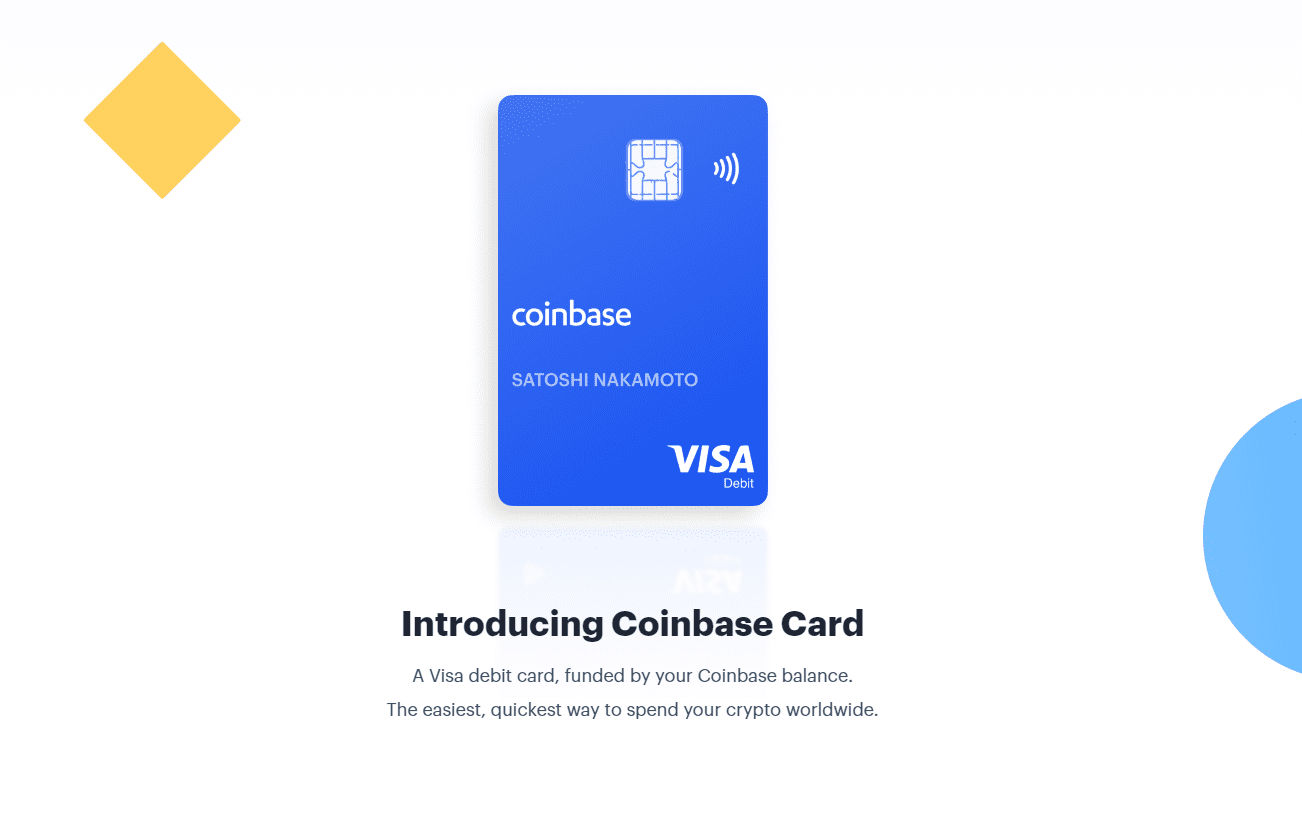 For the Coinbase card you will have to download the card app from your app store. Here you will set everything up. Just have in mind you need to have 5 euro worth of crypto in your wallet to pay for the card.
But from the app when all setup you can set what crypto the card should use when you pay with the card.
Have in mind it's not every country this card can ordered from.
Adding Payment Option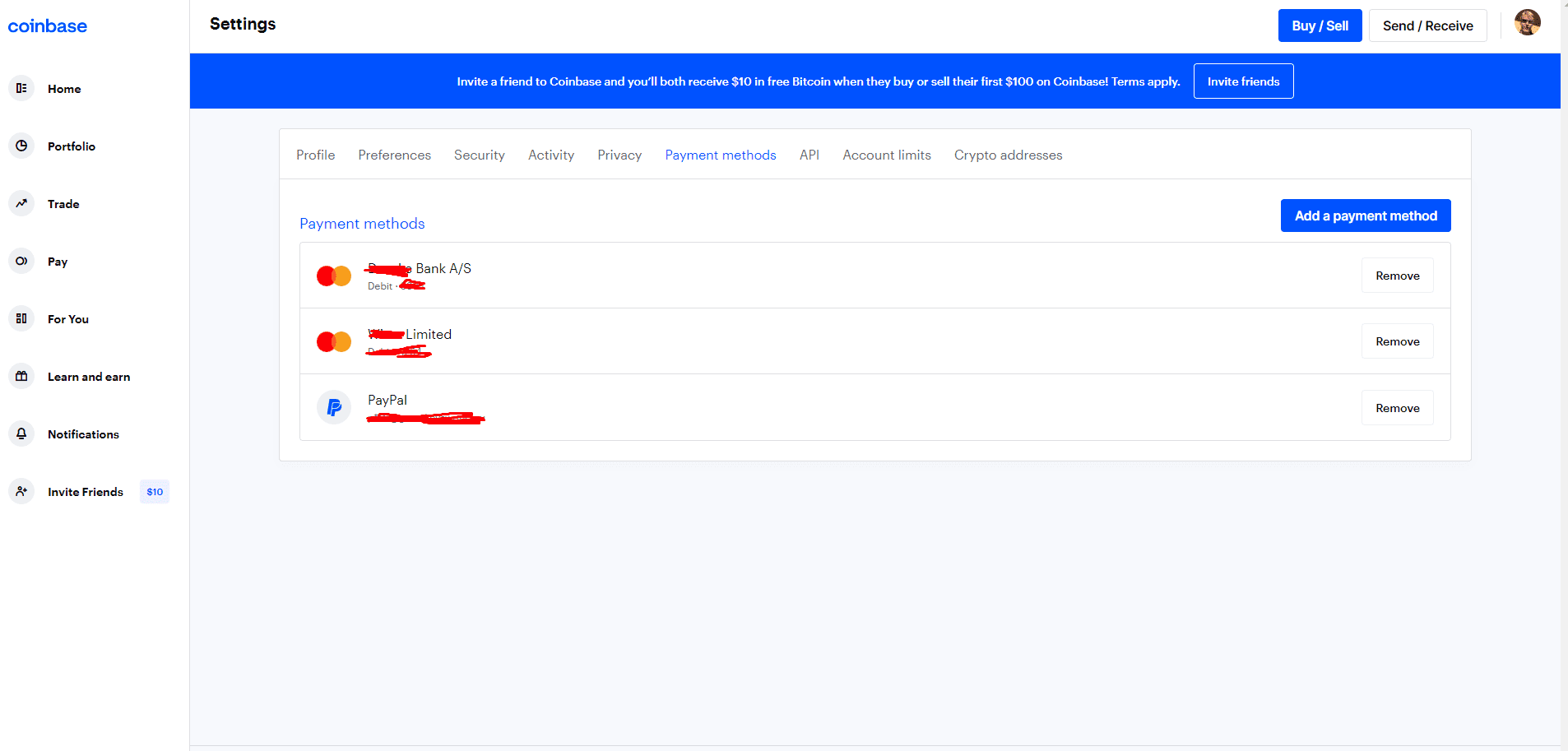 Its very simple to add payments. Click your image top right corner to open a menu. In that menu click on settings. Now under settings go to Payment methods. There click on Add a payment method.
Now a window will open up where you can pick to add a card, bank account or paypal.
Card is for buying only, bank account for both funding your fiat walelt on coinbase and withdrawal but mainly for big investors.
Paypal is purely for withdrawal only.
There might be verifications on both bank account and card by a small transaction or deposit to verify ownership.
End
Well i hope that this post have helped you understand quicker how Coinbase works. If it have helped you or you like this kind of post please share it on your social networks since it will help my content a lot. If you have any suggestions for other sites i should look into or feedback please feel free to leave a comment.